4,000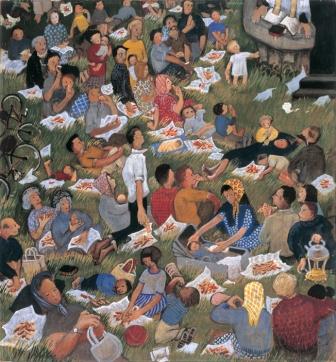 I love the feeding stories in the Gospels. One of them appears in Mark 8.1-10. I don't think I can do better than re-telling the story here:
In those days when there was again a great crowd without anything to eat, he called his disciples and said to them, "I have compassion for the crowd, because they have been with me now for three days and have nothing to eat. If I send them away hungry to their homes, they will faint on the way--and some of them have come from a great distance." His disciples replied, "How can one feed these people with bread here int he desert?" He asked them, "How many loaves do you have?" They said, "Seven." Then he ordered the crowd to sit down the ground, and he took the seven loaves, and after giving thanks he broke them and gave them to this disciples to distribute; and they distributed them to the crowd. They had also a few small fish; and after blessing them, he ordered taht these too should be distributed. They ate and were filled; and they took up the broken pieces left over, seven baskets full. Now there were about four thousand people. And he sent them away. And immediately he got into the boat with his disciples and went to the district of Dalmanutha.
I am thinking of this story because of the discussions we have been having around Broadway about summer. Over the last 30 plus years Broadway has had a summer program that has worked with the children and youth of the neighborhood around Broadway (predominantly). Over the years that program has done great work - it has changed from time to time -- but it has given young people activities to take part in during the day - during the summer.
When I came to Broadway in 1986 the program at that time was primarily recreation: basketball for the boys and cheerleading for the girls. Over the next few years we changed it to art, drama, recreation, history, violin, music, math, poetry -- we started every day with devotions and we ended every day with devotions. We built each week around a different spiritual principle. It was a great program. Over the years following it changed again - it continued to be a program, mainly built around education and activity.
What I have struggled with over the years is this dilemma - throughout the tenure of the program -- things for the people (young and old) of our neighborhood have gotten worse. Graduation rates have continued to decline. Violence remains as does unemployment and underemployment. Broadway -- along with the community has done many wonderful things with this program - but I wonder whether we can do better.
There are around 16,000 people who live in the Mapleton-Fall Creek neighborhood -- and probably a little more than 1/4th live in the southeast quadrant where Broadway is located. Our program has worked, at its height, with about 250 young people. We, like many congregations in low-income neighborhoods, have not examined what we have done in ways that tell us whether we are accomplishing what we believe and hope that we are accomplishing. And, in fact, the reports that we see with our own eyes, and those that we read in the local news would lead us to believe that, in fact, we are not having the impact that we thought we were having. That does not mean that we have been doing something bad. In fact, I would argue, that what we are doing is very good.
The challenge I want to offer is to ask whether we can do better. We can only do better, it seems to me, if we have serious conversations about what it would mean to see that every young person grows up in this community with the opportunity to come into the full flower of their possibility.
We have two remarkable women who will be leading us in our summer activities this year. I have avoided the use of the word "program" because I want to try and think of this differently. I said to Teri Coleman and Martha Wright who are heading this effort -- "I don't want you to think about how we can touch 50, 100 or 250 young people and their families. I want you to think about how we can be involved and invested in the lives of 4,000 people of this neighborhood." I think I saw their eyes bug out of their heads! But they hunkered down and we have begun talking about it.
How can we do something during the summer that doesn't involve people in a program that "we" (the church) runs? But instead finds a way for us to invest in all who are our neighbors and watch for the abundance that there is to be collected afterwards. Sometimes the conversation comes up "how do we involve parents in what we are doing?" That's the wrong question, it seems to me. The better question is how we can get involved in what parents are doing and what parents care about. In the first way it's clear that the church is in the drivers seat. The other thing that happens under option number 1 is that folks end up saying "parents don't care -- they didn't get involved in what we are doing." Under option number 2 we are trusting the power and the presence of the Spirit of God in the lives of people around us and thus we say - "we want to be a part of all the cool things that are going on in your life, because we know that God is making an abundance out of that and we will be poorer for it if we aren't involved."
But how do we do that? That's where it comes to you dear reader. Can you give us your ideas and suggestions? How can we pay close attention to what the Spirit of God is doing in our midst and how do we join ourselves to it? Invest in it?
I've told Martha and Teri -- let's not think of what we are doing as a program - let's think of it like a festival, a party, or a wedding banquet. How about calling it "the Soul Liberation Festival - or just The Jubilee." Instead of inviting people to be involved with us -- let's get involved with others. If there are cooks around - how about a Saturday afternoon barbecue contest on an empty lot? If there are artists - where and how could we invest in them? What about the entrepreneurs? What about those doing hair? What about those who are engineers and math whizs? What would it look like for us to get involved and get engaged? Throw your ideas in. Ask others what ideas they have - and ask them to post them here so we can see. We need your help!